OCTOBER 2021 - TEMPORARY ENFORCEMENT OF £1000 MINIMUM ORDER VALUE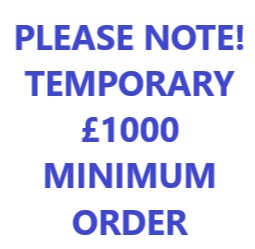 Due to various logistical issues which are being felt around the country, and in an effort to keep delivery times to a minimum, we will temporarily be enforcing a minimum order value of £1000.
This will be reviewed weekly and will be removed as soon as is reasonably practical.
Also please note that for the moment deliveries are continuing to take up to 10 working days, we are still working with our logistics partners to resolve this.
Please accept our apologies for any inonvenience this may caiuse.